At the age of 31, Gareth Bale still has a lot of football left in his career. Cristiano Ronaldo has proved he can still deliver at the highest level into his mid-30s and there is no reason why his former teammate can't do the same.
Now is a good time to look back at Bale's incredible career to highlight three of his best performances.
Premier League- West Ham v Tottenham – February 2013
At the end of the 2012-13 Premier League campaign, Bale won the PFA Players' Player of the Year award. The Spurs man was in fantastic form for the London side and a great example of that was the game against West Ham that season.
This is a fixture which is always tough for Spurs as the crowd at Upton Park used to make it hostile for visiting teams, especially in London derbies. Bale was able to silence the home supporters with an outstanding display.
The Welshman scored the opening goal of the game and a late decider to seal a 3-2 success. His second goal came from over 30 yards and was a dipping strike which capped off another Man of the Match performance.
Copa Del Rey Final – Real Madrid v Barcelona – 2014
Real Madrid fans are unlikely to ever forget Bale's performance for Los Blancos against their fierce rivals Barcelona in the 2014 Copa Del Rey final. The Welsh forward scored the winning goal in the game with five minutes to go.
There is no doubt this is one of Bale's best goals of his career. He picked the ball up at the halfway line and outsprinted Barca's Marc Bartra. At one point Bale ran off the field before breaking into the box to slot past goalkeeper Jose Manuel Pinto.
Bale continues to lift trophies with Real Madrid. He won the league championship last season in Spain and his side are 4/6 in the La Liga betting to defend their crown in the 2020/21 campaign.
Champions League Final – Real Madrid v Liverpool – June 2018
The Champions League final is the biggest game in club football. It is a great time then to produce something special like Bale did with his overhead kick, the first of his two goals in the game.
Bale was the first substitute to score two goals in a Champions League final. His performance earnt him the Man of the Match award and also ensured Real Madrid won the trophy for the 13th time.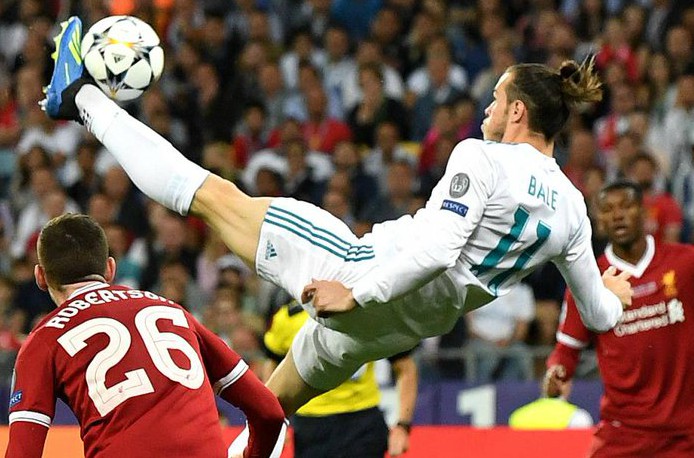 An overhead kick is impressive enough but the angle the ball came across the goal in this final makes Bale's strike even more impressive. This goal will go down as one of the best in Champions League final history.
The victory over Liverpool meant Bale lifted the Champions League trophy for the fourth time in his career. An impressive feat and also justification for why he made the move from Tottenham to Madrid in 2013.
There is sure to be many more chapters left in Bale's career in the future. When he retires, he will go down as one of the best British forwards in the history of the game