Qualifying for their first ever European Championship, and first major tournament since the 1958 World Cup in Sweden where they reached the Quarter Finals, should be heralded as a major achievement for Wales. They enjoyed a fantastic qualifying campaign under the guidance of Chris Coleman, who emulated the achievements of Welsh Sports Hall of Fame inductee Jimmy Murphy by leading his country to play against the best international teams across Europe.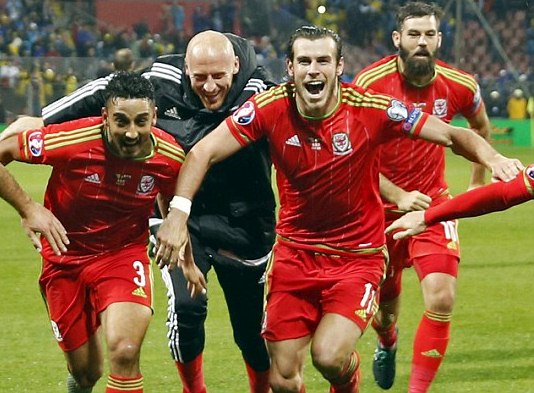 Wales more than deserved their place at Euro 2016 through a fantastic team ethic and commitment to work together that shone through in a group that offered a number of challenging fixtures, particularly against Belgium and Bosnia, but they came through with flying colours. Gareth Bale played a starring role for his country throughout qualifying, stepping up to the plate when required to score a fantastic seven goals from just ten games – it was arguably his goals, along with superb defensive resilience which saw Wales concede just four goals (only Spain, England and Romania conceded less), that sealed his nation's place in France next year.
Indeed Wales also lead the group until the penultimate around of fixtures, when defeat against Bosnia (their first of the campaign) saw Belgium overtake them. A great achievement for a side, which as mentioned before, had never qualified for a major tournament in over half a century (both at the World Cup and the European championships). Wales were also in Pot 4 when the draw for qualifying was made- Bosnia, Belgium and Israel were all ranked higher.

Bale has always thrived under the pressure of being Wales' shining light, with his ability to change the course of a game in an instant with a moment of magic from his left foot making him indispensible. He will join fellow footballing luminaries such as Cristiano Ronaldo, Karim Benzema and Wayne Rooney in representing his nation at Euro 2016, and although Wales will have to wait a bit longer before finding out who they face in the group stage, Bale will know that the hopes of an entire nation will rest on his shoulders. The Welsh are unlikely to be considered strong contenders among the likes of Coral to win the tournament, but if their star man can show the footballing world the qualities that make him the most expensive footballer in history then they could surprise many and go far in France. A bit like Russia and Andrei Arshavin at Euro 2008.
Ryan Giggs was an absolute legend at Manchester United, but we never got to see him strut his stuff at the highest stage. For many years, we feared that Bale would join Giggs in the "most talented players never to play a World Cup/Euro" lists that get trotted out, but the current FAW player of the Year has been given a golden opportunity to showcase his wares in France next year.
The Welsh star has become accustomed to producing the goods in La Liga and Europe's most prestigious domestic competition, the Champions League, over the years, but playing in a major international tournament will be a new experience for Bale and his Welsh team-mates. His critics will suggest that Bale must be at his brilliant best if he is to prove he is one of the best footballers on the planet alongside Cristiano Ronaldo; it may be an unwanted distraction and unnecessary pressure, particularly when he has to continuously prove his worth at Real Madrid where the demand to perform is enormous, but it may inspire Bale to thrive in the spotlight and produce match-winning performances that mean Wales do themselves proud at Euro 2016.
Certainly after coming through a group with both Belgium (who are now World No.1) and Bosnia, they must fear no other team, and have more than a decent shot at creating history in France.